BRAND AND RETAILER MEMBERSHIP CATEGORIES:
FFC offers a two Brand and Retailer of membership for our core FFC platform: Full Membership and SLCP Limited License Membership
Full Membership

SLCP Limited License Membership (LLM)

For companies that need a comprehensive supplier compliance management system.
Unlimited system log-ins for all of a member's internal staff and supply chain partners including licensees, agents, importers and suppliers
Includes FFC valued added services for SLCP.
Dues are based on the total value of a member's revenue or sourcing volume.

For companies that would like to use FFC's SLCP functionality.
Includes FFC value added services for SLCP.
Cost-effective membership category allows limited license members to implement SLCP gradually based on the benefits realized.
Dues are based on the number of facilities.
BENEFITS OF FFC MEMBERSHIP
Search suppliers to identify where your facilities overlap with other members' facilities to reveal opportunities for collaboration.
Identify suppliers that have completed the SLCP process.
Communicate with other members to explore collaboration –either directly or through a double-blind communication system.
Use of two FFC unique solutions to map a member's supplier code of conduct against a verified SLCP and automatically create a Corrective Action Plan (CAP) for any facility conditions found to be in non-compliance. This can include member specific SLCP scoring.
Conduct a joint audit and share reports on the FFC platform, and/or exchange Lead Brand responsibility for successive audits while sharing direct access to each set of results.
Access information posted to the FFC "sharing platform" by other members about issues they are actively remediating in facilities.
VALUE ADDED SLCP SERVICES:
As FFC works with some of the world's leading apparel brands, they have guided us to develop value added SCLP services to help them take full advantage of verified SLCP assessments.
Mapping:

FFC has developed two innovative methods for members to map verified SLCP assessments against either a perfectly scored SLCP (Method 1) or a brand-specific supplier codes of conduct (Method 2) generating CAP findings. This is an optional service, and since this optional mapping is brand-specific there is a one-time fee for this work specified in the fee charts below.
Scoring:

FFC has already helped several brands create company-specific scoring and assessment grade assignment for both mapping methods. This is helpful so SLCP assessments can fit into a brand's overall reporting or supplier risk management framework. Since this scoring work is brand-specific, it would be performed as one-time custom service, based on an approved statement of work.
FULL MEMBERSHIP:
FFC has an annual fee structure for full members based on annual revenue of the company. "Revenues" are either a) the gross annual income of the business or b) the business's gross annual income from "private label" and / or "importer of record". FFC has a standard membership agreement each prospective member must sign prior to accessing the system. Please contact information@fairfactories.org to let us know you are interested in membership, or would like to review the membership agreement.
FFC's tiered membership levels to ensure that our solutions are cost effective for companies of all sizes.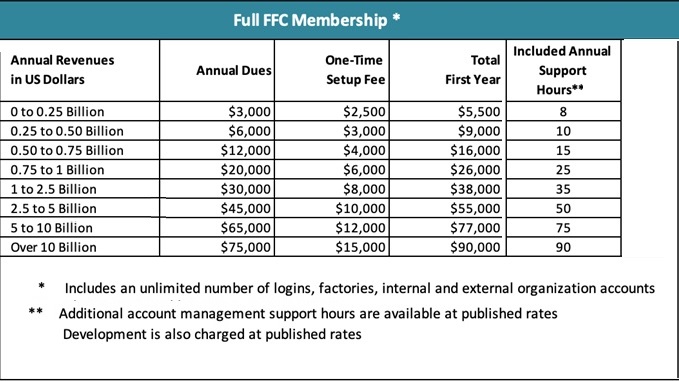 Annual dues: Full FFC membership includes access to all FFC features and modules including collaboration and SLCP. As FFC is an annual membership, there is no obligation for any member to continue their membership for an additional year.
One-time Setup Fees: Each FFC member is assigned an Account Manager. The Account Manager works with the member designated administrators to set-up the FFC software to their specifications. This fee is not repeated if a member signs up for a subsequent year. One-time set up fees include:
FFC New User Onboarding (train the trainer - 6 part curriculum)
Uploading the member's supply chain (factory and supplier list) using FFC's bulk import utility
Configuring member defaults, roles & permissions
Building the member's audit assessment
Annual support hours: Each membership tier includes a number of account manager support hours to train members and to ensure they get the most out of FFC's solutions. The included hours are provided over and above one time SLCP mapping services. Members may contract for additional support hours at any time.
SLCP LIMITED LICENSE MEMBERSHIP (LLM)
SLCP LLM is a cost-effective membership option for companies that wish to adopt SLCP but do not require a comprehensive supplier compliance management system.
FFC offers a per verified assessment fee structure for SLCP LLM members. Each LLM member must sign FFC's standard membership agreement prior to accessing the system. Please contact information@fairfactories.org to let us know you are interested in membership or would like to review the membership agreement.

One-Time Setup Fee: This fee covers creating the member on FFC, onboarding a super user administrator to create initial system logins with permissions and importing the supply chain. If a member's supply chain exceeds 200 factories, additional fees may apply.
Annual Support Hours: Each member receives account manager support hours to train members and to ensure they get the most out of FFC solutions. The included hours are provided over and above the one-time setup fee. Members may contract for additional account management support hours.
SLCP One-Time Mapping Fee: This fee covers implementation of FFC's expert system that allow a member to "map" a verified SLCP against a perfectly scored SLCP (method 1) or their propriety Supplier Code of Conduct (Method 2) to identify out of compliance findings and create an audit with a corrective action plan. For Method 2 members, this fee includes building the member's assessment on FFC. Members are charged for the actual hours incurred to implement their mapping.
Verified SLCP Assessment Fee: Once established a Limited License Member can process an unlimited number of verified SLCP assessments for $200 per assessment. These fees will be billed quarterly based on the number of assessments accessed in the prior quarter
Annual Mapping Maintenance Fee: SCLP Mapping customers are charged for the actual hours required to migrate them to each SLCP release rather than a fixed % maintenance fee. We believe this is the fairest approach to our members who hopefully will benefit as SLCP releases become more stable over time.
Moving to full FFC membership: SLCP Limited License Members can move to full FFC membership at any time. Just speak with your account manager. They will determine if there is any proration for license fees and will assist the member on how they can take advantage of other FFC features and benefits. The setup fees paid as a Limited License Member will be deducted from the total setup fees associated with the full membership tier the member joins.
MEMBER CUSTOM DEVELOPMENT & RATE SCHEDULE
There may be times when a member wishes to implement a new feature in FFC that does not yet currently exist, take advantage of some add on services FFC provides (such as Custom Scoring or integration of FFC into their total systems environment).
FFC will not undertake custom development without an approved DDD (Detailed Design Document) that details the development specifications, estimated cost and timeline. Once a member requests FFC to prepare a DDD, the member will be charged for its preparation. All development projects must follow the same Software Development Lifecycle (SDLC) and must be released to production in a formal development sprint that undergoes rigorous regression testing and a formal release process. Members are expected to participate in User Acceptance Testing of their requested enhancements. Member approval of all enhancements are required before they are moved to production.
Member will be invoiced for actual hours incurred when their custom development functionality is released to Production. The current FFC rates which apply to all members are as follows:
Development Team - $95 / hour.
Account Manager, Business Analyst, Quality Analyst and Project Manager - $110 / hour
Product Manager, Subject Matter Specialist - $150 / hour
FFC MEMBERSHIP CATEGORIES FOR FACILITIES
Facility response to FFC member findings:
Some FFC members might want suppliers to come directly into FFC to review and update corrective actions. A facility has a single log in to FFC regardless of how many FFC members they may work with. When the facility logs into FFC they choose the FFC member they are working with and the supplier's screens will change dynamically to adopt the permissions each FFC has given them. There is no membership fees for this
Facility wanting to use FFC as an SCLP host:
There is a $329 for credit card OR $374 for wire transfer fee for suppliers that use the FFC platform to complete their SLCP self-assessment. There is a $60 fee for sharing assessments to the FFC platform that have been created on another accredited host. FFC will continue to have no fee for verifiers. Click here for more information.
Individual facilities, vendors and Factory Group Members:
FFC does have a membership category for individual facilities, vendors and factory group members that help these organizations take ownership of their own compliance management. Individual members can:
establish their own code of conduct and use it to identify their own corrective actions across a single facility or across all of the work sites they may operate.
store and share their own documents with buyers.
import corrective actions from buyer audits into one system and use FFC to track and report status.
Additionally, Factory Group Members can perform compliance management over the factories within their group and can share that information with their buyers.
For more information of facility or factory group membership, please contact information@fairfactories.org
ANTITRUST / ANTICOMPETITION GUIDELINES
The FFC has a business review letter from the United States Department of Justice Antitrust Division. We work closely with antitrust counsel from Wiggin and Dana to ensure that members are informed and follow antitrust and anti-competition guidelines. This gives our members increased assurance when working collaboratively with potential competitors.